Ghana's health budget to expand to ¢16.5bn in 2024; medical devices market to post double digit growth – Fitch Solutions
Ghana's health budget is expected to expand to ¢16.5 billion in 2024, from ¢15.2 billion in 2023.
According to Fitch Solutions, the medical device market will benefit from increasing government spending on health and economic recovery over 2024.
We believe ongoing health infrastructure projects and rollout of the National Health Insurance Scheme will continue to support increased budgetary spending on health over the coming decades as well spending on pharmaceuticals and medical devices. We further highlight recovery in Ghana's real Gross Domestic Product in 2024 after sharp declines in 2022 and 2023 will also support private spending on medical devices and medical devices imports in the country over our forecast period", it explained.
"We forecast real GDP growth to accelerate to 3.7% in 2024 from an estimated 3.0% in 2023. However, GDP will remain below the five-year pre-pandemic average of 5.3% as a result of strong price pressures and fiscal consolidation", the UK based firm added.
Medical devices market to record double digit growth
In terms of the medical devices market, it said all product categories will post high to double digit growth in US dollar terms, led by consumables and dental products.
Consumables accounted for more than a quarter of the total medical devices market in Ghana, and the category is expected to record the fastest Compound Annual Growth Rate (CAGR) growth of 21.3% in US dollar terms over our five-year forecast period to 2027.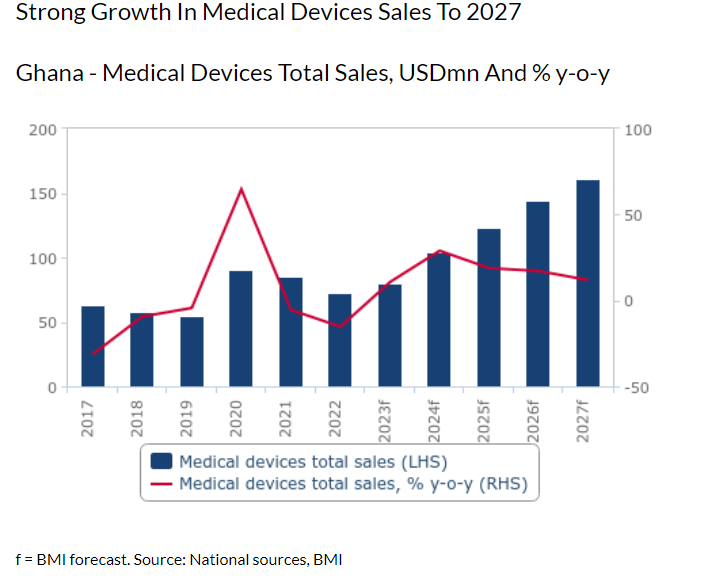 We believe growth in consumables over the near-to-medium-term will continue to be supported by improving access to healthcare in Ghana as the country continues to implement its universal health coverage goals", it pointed out.
"While accounting for the smallest portion of the medical devices market, dental products will record a 2022-2027 CAGR of 21.1% in US dollar terms. Dental services such as tooth replacement and filling, root canal therapy, dental X-ray and scaling are provided free of charge in the public health sector in Ghana, however access remains limited in rural areas due to a shortage of equipment and trained dentists", it furthered.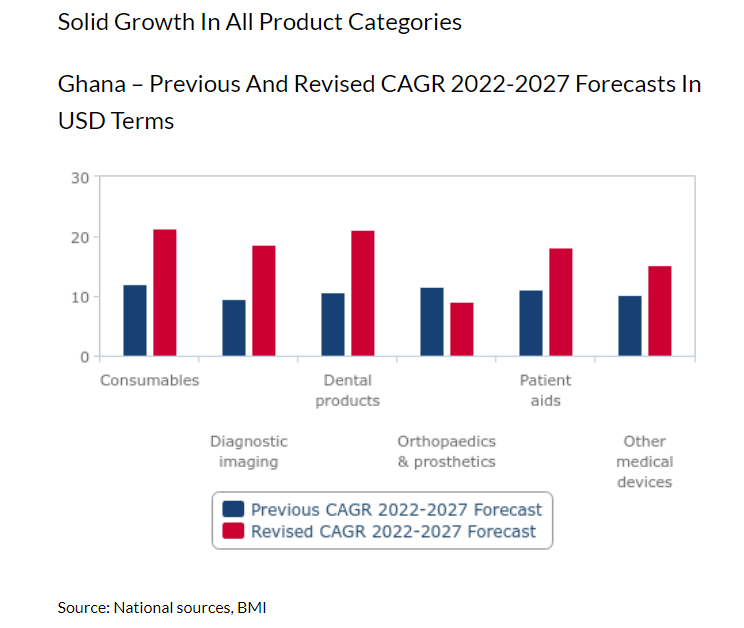 In conclusion, Fitch Solutions said demand for diagnostic products is also expected to remain strong as the market copes with prevention and treatment with the double burden of chronic and communicable diseases.